Dancity Open Call is the Dancity Festival Association call for artists, photographers, illustrators, performers and video- makers, competing for the chance to present their projects at Dancity Festival for a vast public, and in an exclusive location such as Palazzo Candiotti.
"Possible Realities" is the selected theme for the second edition of the Open Call, inspired by the concept of the Dancity Festival 2015 "Still in perfect shape" which refers to the glowing condition of an organization as complex as the Festival though at its 10th edition.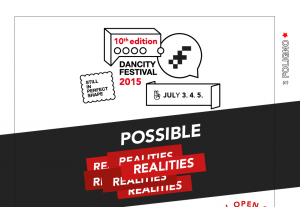 Underground Resistance are returning to Italy after 10 years with their project called "Timeline", on Saturday, July 4th, in the beautiful courtyard of Palazzo Trinci.
There's a musical chain running from the past, through the present and into the future. The links in that chain, that which holds things together, [..]

The DJ Competition launched by Dancity Festival 2015 in collaboration with Mixcloud is now closed.

The winner will be announced shortly.

Prizes: a Novation Launch Control Pad by MidiWare, a VIP pass for Dancity Festival 2015 and the possibility to play at Dancity Nights in the next season.


Dancity Open Call is the Dancity Festival Association call for artists, photographers, illustrators, performers and video- makers, competing for the chance to present their projects at Dancity Festival for a vast public, and in an exclusive location such as Palazzo Candiotti.
"Possible Realities" is the selected theme for the second [..]