Dancity Festival 2018
Venerdì 24 Agosto 2018

Auditorium S. Domenico
Piazza San Domenico
Foligno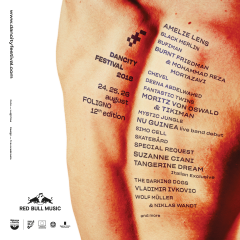 Dancity Festival 2018 - 12th edition
August 24th / 25th / 26th
Foligno
A Festival of Human Dimension.

_____
TICKETS & PACKAGES: click HERE

_____
LINE-UP:
in alphabetical order
Amelie Lens
Black Merlin
Bufiman
Burnt Friedman & Mohammad Reza Mortazavi
Chevel
Deena Abdelwahed
Fantastic Twins
Moritz von Oswald & Tikiman
Mystic Jungle
Nu Guinea presents Nuova Napoli live band - debut -
Simo Cell
Skatebård
Special Request
Suzanne Ciani
Tangerine Dream Italian Exclusive
The Barking Dogs
Vladimir Ivkovic
Wolf Müller & Niklas Wandt
and more.

Special thanks to Red Bull Music for 10 years of supporting.


_____
ARTWORK by Trevor&Brosio