DANCITY FESTIVAL // OPEN CALL 2015 // POSSIBLE REALITIES
Venerdì 3 Luglio 2015 - 17

Palazzo Candiotti
via Gramsci,2
Foligno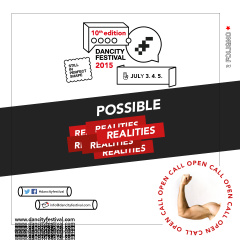 DANCITY FESTIVAL 2015
3, 4 e 5 luglio
Foligno


DANCITY OPEN CALL 2015 ** POSSIBLE REALITIES
DANCITY // OPEN CALL è il bando indetto dall'Associazione Culturale Dancity rivolto ad artisti, fotografi, illustratori, performer e video-maker che vogliono avere l'occasione di presentare il proprio progetto all'interno della cornice del Dancity Festival, in una location esclusiva come quella del secondo piano di Palazzo Candiotti, per proporsi così ad un vasto pubblico.

Il tema scelto per il secondo anno dell'Open Call è "Possible Realities" e prende ispirazione direttamente dal concept-motore del Dancity Festival 2015, "Still in perfect shape", scelto appunto per sottolineare la condizione di ottima salute di un complesso organismo come quello del Festival giunto ormai alla sua decima edizione.

Scopri come partecipare scaricando il bando (pdf) e il modulo di iscrizione (doc) al seguente link: Open Call DF 2015.

Per ulteriori info scrivere a: opencall@dancityfestival.com

English version

DANCITY FESTIVAL 2015
July, 3/4/5
Foligno


DANCITY OPEN CALL 2015 ** POSSIBLE REALITIES
DANCITY // OPEN CALL is the Dancity Festival Association call for artists, photographers, illustrators, performers and video-makers, competing for the chance to present their projects at Dancity Festival, for a vast public and in an exclusive location such as the 2nd floor of Palazzo Candiotti.
"Possible Realities" is the selected theme for the second edition of the Open call, inspired by the concept of Dancity Festival 2015, "Still in perfect shape", chosen to highlight the glowing condition of a complicated system such as
the Dancity Festival at its 10th edition.


Find out how to enter by downloading the open call document (pdf) and the entry form (doc) at the following link: Dancity Open Call 2015.

For further info: opencall@dancityfestival.com