LEVON VINCENT - DANCITY NIGHTS
Sabato 6 Dicembre 2014 - 23

Serendipity Outdoor
Via delle Industrie,123
Foligno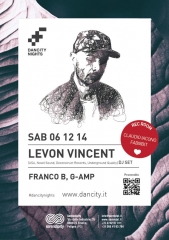 Dancity Nights
Sabato 6 dicembre 2014
LEVON VINCENT
CLAUDIO IACONO

Line-up:
PLAY ROOM Line up: FRANCO B, LEVON VINCENT, G-AMP
REC ROOM DJs: FABI8BIT, CLAUDIO IACONO


Levon Vincent, DJ e producer americano, giunge al suo posto di prim'ordine nei club dopo anni di sacrifici e rifiuti che lo hanno reso un vero e proprio mecenate nei confronti dei nuovi e sconosciuti talenti della scena techno.
Di se stesso dice: "I am a scientist working in the field of ass-shakery."
La sua missione è farci ballare e con i suoi beat statici intrecciati a melodie sorprendenti, ci riesce eccome!
PREVENDITE

acquistabili al seguente link:

Tickets